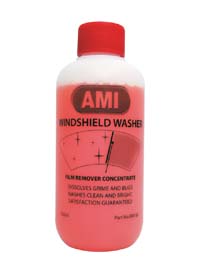 WINDSHIELD WASHER (180ml)
GENERAL:
Film remover concentrate dissolves grime and bugs washes clean and thorough satisfaction guaranteed.
FORMULATED:
Cleans dirt, grease, grime, bugs.
Melts windshield ice
AMW180 does not contain anti-freeze and is only a concentrated cleaner.
DIRUMUSKAN:
Pekat penanggal filem melarutkan kotoran dan pepijat mencuci bersih dan dijamin kepuasan menyeluruh.
Membersihkan kotoran, gris, comotan dan pepijat.
Mencairkan ais di cermin kaca depan.
AMW180 tidak mengandungi antibeku dan ia adalah pencuci pekat.