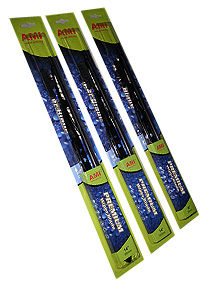 AMI PREMIUM WIPER BLADE
GENERAL:
AMI Premium Wiper Blade is standard design .Natural Rubber formulate new Technology clear & clean to improve view . Wiper spring made by stainless steel blade to avoid rust ; it's more lasting that traditional wiper blade. wiper blade film 0.9 mg stainless steel to sustain the weight . To reduce wiper arm pressure & longer the arm performance.
Installation caution:
1)For best wiper quality and lifespan, clean the wiper blade and windscreen prior to installation.
2)Be sure wiper blade is installed correctly prior to operation.
3)The windscreen should be free of contaminants such as oil, wax ..etc. to ensure the service life of the blade.
Product Features :
*All season
*Unique wiper structure
*Advanced aerodynamic design
*Improve durability
*Superior wiping performance
*Revolutionary quiet operation
*Reduce streaking and smearing
Fit follows:
Refer car manual specification.
It suitable / Applicable for European & Asian vehicle with U - Hook,Bayonet & Side pin Adapter.