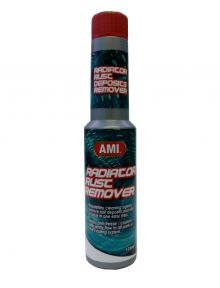 AMI RADIATOR RUST REMOVER
GENERAL:
•
Proprietary cleaning agents remove rust deposits and oily residue in one easy step.
•
Helps anti-freeze / coolant efficiently flow to all parts of the cooling system.
DIRECTIONS:
Allow engine and cooling system to cool, drain cooling system, add content to radiator and refill with water to indicated level.
Start engine for 10 minutes, stop engine and drain cooling system.
Refill with pre-mixed coolant or manufacturer's recommended coolant to indicated level.