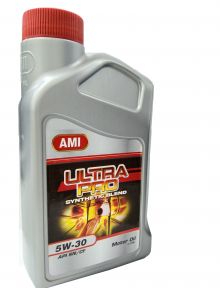 ULTRA PRO SYNTHETIC SN/CF 5W30
GENERAL:
Help keep your engine running like new. Provide superior flow on cold weather start-ups. Minimize engine deposits. Outperform conventional premium motor oils. Provide superior resistance to high temperature oxidation. Provide superior protection against wear and corrosion. Keep engine running smoothly and fuel economy.
DIRUMUSKAN:
Membantu menjaga mesin anda berjalan seperti baru. Menyediakan aliran unggul pada cuaca sejuk. Minimalkan mesin deposit. Mengungguli minyak premium motor konvensional. Menyediakan unggul terhadap pengoksidaan suhu tinggi. Memberikan perlindungan unggul terhadap keausan dan korosi. Mesin tetap berjalan lancar dan ekonomi bahan bakar.