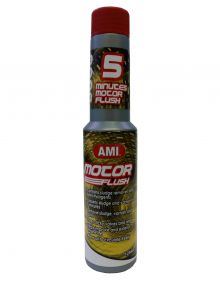 AMI 5 MINUTES MOTOR FLUSH
GENERAL:
•
Contains sludge remover and lubricity agents.
•
Loosens sludge and varnish in 5 minutes.
•
Removes sludge, varnish and gums.
•
Frees sticky valves and rings.
•
Helps improve and extend engine life.
•
Allow oil to circulate freely.
DIRECTIONS:
•
Add content to engine before oil change.
•
Idle engine at normal speed for 5 minutes.
•
Do not drive the vehicle.
•
Proceed with normal oil change procedure.