Products
|
Transmission Fluid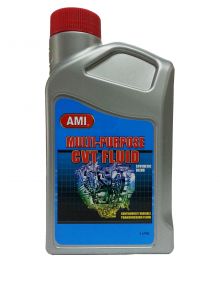 Multi-Purpose CVT Fluid
GENERAL:
Multi-Purpose CVT Fluid is a specially formulated premium quality CVT fluid that suitable to be used in a wide range of CVT applications. It is specially designed to provide excellent metal friction and torque transfer performance.
FORMULATED:
High Versatility - suitable and compatible with most of the CVT applications.
Unique formulation – provide high level of protection to extend fluid life and transmission life.
Excellent flow properties - exceptional high and low temperature performance.
Excellent viscosity stability (high viscosity index) – provide adequate lubrication at high and low temperature.
DIRUMUSKAN:
Multi-Purpose CVT ialah cecair CVT berkualiti premium yang dirumus khas yang sesuai digunakan dalam pelbagai aplikasi CVT. Ia direka khas untuk memberikan prestasi pemindahan geseran logam dan tork yang sangat baik.
Fleksibiliti Tinggi - sesuai dan serasi dengan kebanyakan aplikasi CVT.
Formulasi unik – memberikan tahap perlindungan yang tinggi untuk memanjangkan hayat bendalir dan hayat penghantaran.
Sifat aliran cemerlang - prestasi suhu tinggi dan rendah yang luar biasa.
Kestabilan kelikatan yang sangat baik (indeks kelikatan tinggi) – memberikan pelinciran yang mencukupi pada suhu tinggi dan rendah.