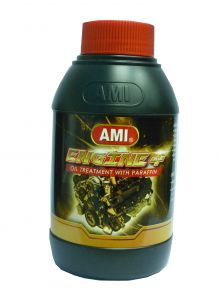 AMI ENGINE PLUS
GENERAL:
-Reduces costly oil burning and tail pipe smoke.
-
Conditions seals to stop and prevent external oil leaks.
-
Helps restore performance in older vehicles.
-
Helps quite noisy engine.
-
Restores compression for enhance power and gas mileage.
-
Add one bottle into 3 to 7 litres of engine oil.
-
Add Engine Plus to crankcase.
-
Compatible with both mineral and synthetics oil. For turbo charged or non-turbocharged engines.