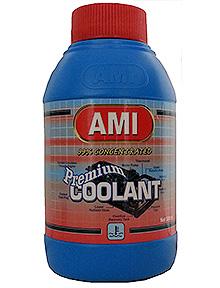 PREMIUM COOLANT (BLUE) 99% CONCENTRATED
GENERAL:
Add to cooling system after fluid change or radiator flush.
Protects aluminum and all metal part cooling system against rust and corrosion.
Combats harmful electrolysis. Lubricates water pump seals.
Provides anti from protection. Prevent engine system from overheating.
Reduced maintenance cost.

DIRUMUSKAN:
Ditambahkan ke sistem pendinginan selepas penukaran fluid atau radiator flush.
Melindungi aluminium dan semua bahagian logam sistem pendinginan daripada karat dan kakisan.
Tidak membahayakan elektrolisis. Melincirkan pam air.
Memberi perlindungan. Menghalang sistem enjin daripada panas.
Mengurangkan kos pemeliharaan.
配方:
冷却系统添加剂或散热器清洗剂.
保护铝金属部件, .预防冷却系统生锈和侵蚀.
提供保护 / 防止冷却系统的发动机系统过热.
减少维修费.