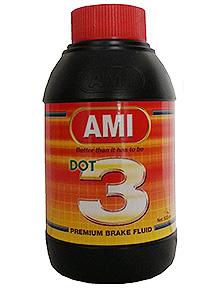 PREMIUM BRAKE FLUID DOT 3
GENERAL:
AMI produces Function Automotive Fluids
Comprised of the best components to ensure quality products and industy specifications.
AMI DOT 3 Premium Brake Fluid have industry high boiling points.
Meets federal safety standard No.116. Exceeds S.A.E Specs. J1703.
FORMULATED:
For disc and drum brakes.
Maintain operating viscosity at high temperature levels.
Be safe for all brake system components including metals, rubbers and plastics.
Be compatible with all DOT 3 fluids. Minimum wet boiling 284 F.
DIRUMUSKAN:
AMI menghasilkan Bendalir Automotif Berfungsi
Terdiri daripada komponen terbaik untuk memastikan produk berkualiti dan spesifikasi industri.
Bendalir Brek Premium AMI DOT 3 mempunyai takat didih industri yang tinggi.
Memenuhi piawaian keselamatan persekutuan No.116. Melebihi Spesifikasi S.A.E. J1703.
Untuk brek cakera dan dram.
Mengekalkan kelikatan operasi pada tahap suhu tinggi.
Selamat untuk semua komponen sistem brek termasuk logam, getah dan plastik.
Serasi dengan semua cecair DOT 3. Mendidih basah minimum 284 F.