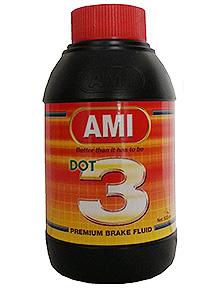 PREMIUM BRAKE FLUID DOT 3
GENERAL:
AMI produces Function Automotive Fluids
Comprised of the best components to ensure quality products and industy specifications.
AMI DOT 3 Premium Brake Fluid have industry high boiling points.
Meets federal safety standard No.116. Exceeds S.A.E Specs. J1703.
FORMULATED:
For disc and drum brakes.
Maintain operating viscosity at high temperature levels.
Be safe for all brake system components including metals, rubbers and plastics.
Be compatible with all DOT 3 fluids. Minimum wet boiling 284 F.