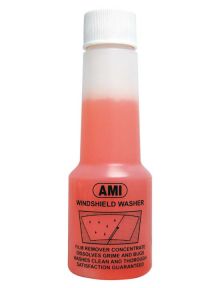 WINDSHIELD WASHER (50ml)
GENERAL:
Film remover concentrate dissolves grime and bugs washes clean and thorough satisfaction
guaranteed
FORMULATED:
Cleans dirt, grease, grime, bugs.
Melts windshield ice
AM50 does not contain anti-freeze and is only a concentrated cleaner

DIRUMUSKAN:
Membersihkan kotoran, gris, comotan dan pepijat.
Mencairkan ais di cermin kaca depan.
AM50 tidak mengandungi antibeku dan ia adalah pencuci pekat.
配方:
清洗污垢,油,尘垢,臭虫.
融化挡风玻璃冰
AM50不包含防冻,并只是浓缩液体.